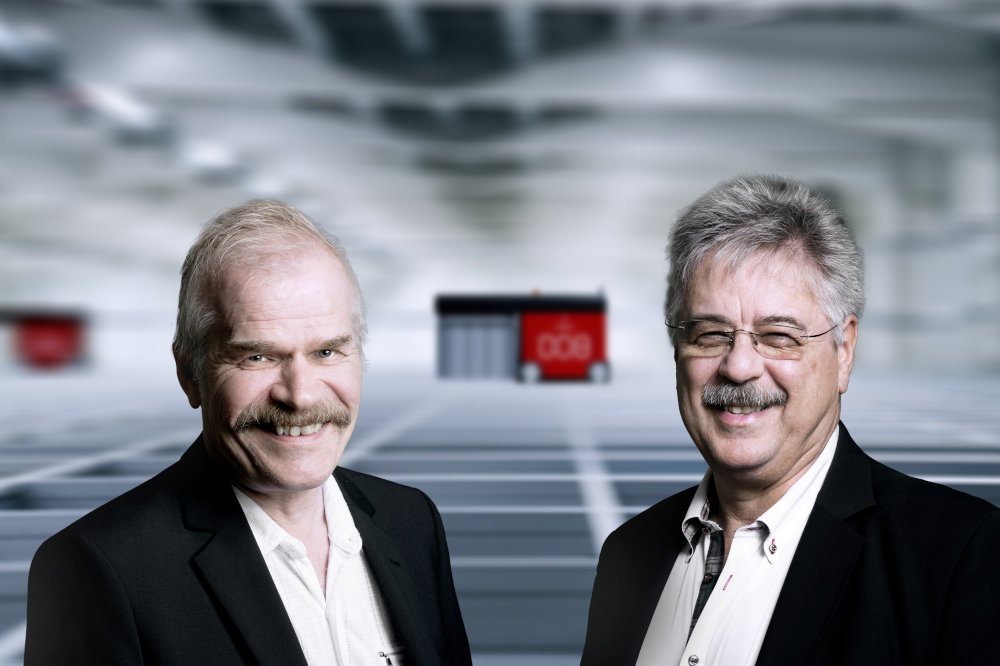 Cube storage pioneers are the new members of the Logistics Hall of Fame
Cube storage pioneers Jakob Hatteland (72) and Ingvar Hognaland (68) will be inducted into the Logistics Hall of Fame. The two Norwegians can claim to have reinvented and commercialised warehousing with the AutoStore system. The underlying principle of cube storage automation is one of the most important inventions in modern logistics and has established itself worldwide as the standard and model for highly efficient automated small parts warehouses.
In the 1980s, Jakob Hatteland built up the electronics parts wholesaler that bears his name, Jakob Hatteland Electronics AS, to become the most important player in the Norwegian market. In the 1990s, his technical director Ingvar Hognaland came up with the idea for the space-saving cube storage automation, an automated storage system based on the cube principle, which later became famous under the product name AutoStore. In 1996 Hatteland and Hognaland founded AutoStore as a technology company in Nedre Vats. Hognaland's idea of using all the available space in a storage facility led to the central design element of AutoStore: the grid. The whole system consists of an aluminium grid, robots, bins, workstations and a controller. The robots run on rails along the top of the grid and remove bins from the bays as required.
After introducing the first AutoStore robot for internal use in 2002, Hatteland recognised the global potential of the system and decided to commercialise AutoStore from 2004. The AutoStore principle enabled unprecedented efficiency in warehouse logistics: it is scalable, space-saving and energy-efficient, offering high throughput rates and very good uptime. The modular design can be integrated into any infrastructure and can save 75 percent of the volume compared to conventional systems. Today, more than 1,250 AutoStore systems are in use at around 900 companies in 50 countries world wide. After Hatteland and Hognaland successfully sold AutoStore to an investor, it was valued at more than €1.5 billion – before being sold to a second investor in 2019. It was Norway's first unicorn.
To be eligible for induction into the Logistics Hall of Fame, an individual's achievements must not only be of benefit to an individual company but must have significantly and sustainably advanced logistics beyond the boundaries of the individual's own organisation or have become an industry standard. To date, 43 logisticians have made it into the international hall of fame.
The cube storage pioneers will be officially inducted into the Logistics Hall of Fame at a gala reception on 29 November in Berlin.